How to Comment in a Cell
How do I leave a comment in a cell?
To leave a comment in a cell do the following:
Unprotect the sheet
Right-click the cell where you want the comment to appear
Choose Insert Comment, and type.
To remove or edit a comment, right-click the cell which has the comment.
Choose either Edit Comment or Delete Comment.
Note: Protect the sheet again unless you are certain that you will not accidentally delete the formulas from the sheet.
Unprotect Sheet

Right-click cell and choose Insert Comment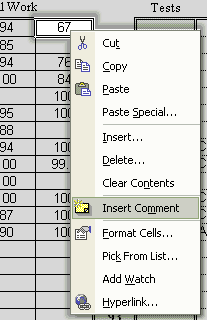 Help Pages
Set Up: Quick Start Guide - Information Tab | Subject Tabs - Adjusting the Grade Weight | Subject Tabs - Credits | Set up Your Grade Scale | Enter Attendance - Calendar Tab | How to Change the Date on the G&A Calendar |
FAQs: FAQs - Frequently Asked Questions | I can't see the Tabs: Minimized vs Maximized | Print Preview and Printing | Timing and Placing the Scores | How to Unprotect and Protect a Sheet | Not Using the Grade Weight | Year-Round Schooling Changes - Change number of months in school year. | Year-Round Schooling Changes - Changing the Semester in Print