Nature Journal- Specimen Page
The specimen holder shown here contains a pressed forsythia and my daughter's best handwriting at the time.
I made the specimen pages from various materials. The one pictured here is made from:


color acid-free paper, green, blue, and white, (the white paper is inside) and


photo sleeves


tape
The specimen page pictured here is a sandwich of those materials.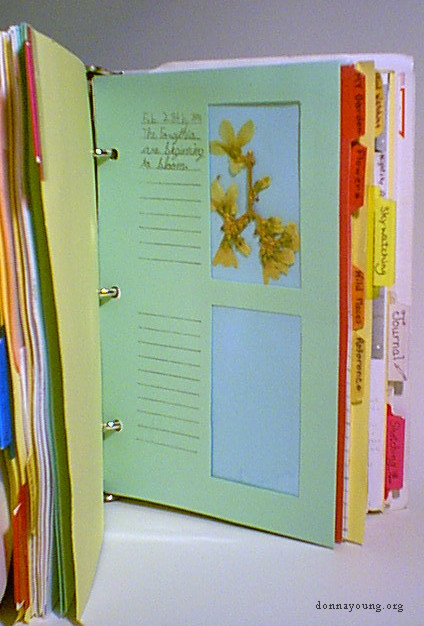 Basic Instructions

The green outer paper is folded in half.


Determine the design and window placement. Cut the windows on both sides. (see Nature Journal Specimen Page - Flower to see a different design.)


Cut a piece of white paper in half.


Cut windows in the white paper that is in the same place as the green paper - BUT cut the windows around 1/4 inch or more larger.


Attach photo sleeves to the white paper with good tape. Insert a trimmed piece of blue paper into the sleeves if you want to have specimens on both sides. If you want to see both sides of the specimen, don't add the blue paper inserts. [See notes on right.]
Notes
The blue insert serves an important function. They hold the specimens in place. Mount the specimen on the blue paper with white glue.
For large specimens, use a photo sleeve that is for 5 x 7 photos. The specimens for this book can not be larger than the pages unless the specimen is broken and mounted on a fold-out page.
This specimen page uses the two lower pockets from a photo sheet.
See Nature Journal Specimen Page - Leaves for information about the photo sheet.
NEXT: Nature Journal Specimen Page - Leaves
Donna Young
September 29th, 2008
Updated
An Inside Image
Click to see a larger image.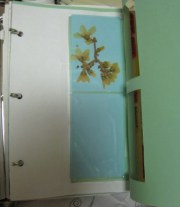 In this image you can see the white paper with the photo album sleeeves taped to it.
Related Links